What is a SAYES Miami Bridal Experience?
SAYES Miami's mission is to introduce an innovative shopping experience personalized to you: trying on wedding dresses in a private appointment with your loved ones and making the experience an unforgettable one. SAYES Miami carries an exclusive line that allows brides to fully customize their wedding gown. Choosing from various silhouettes and necklines to the right fabric and laces.
Book an Appointment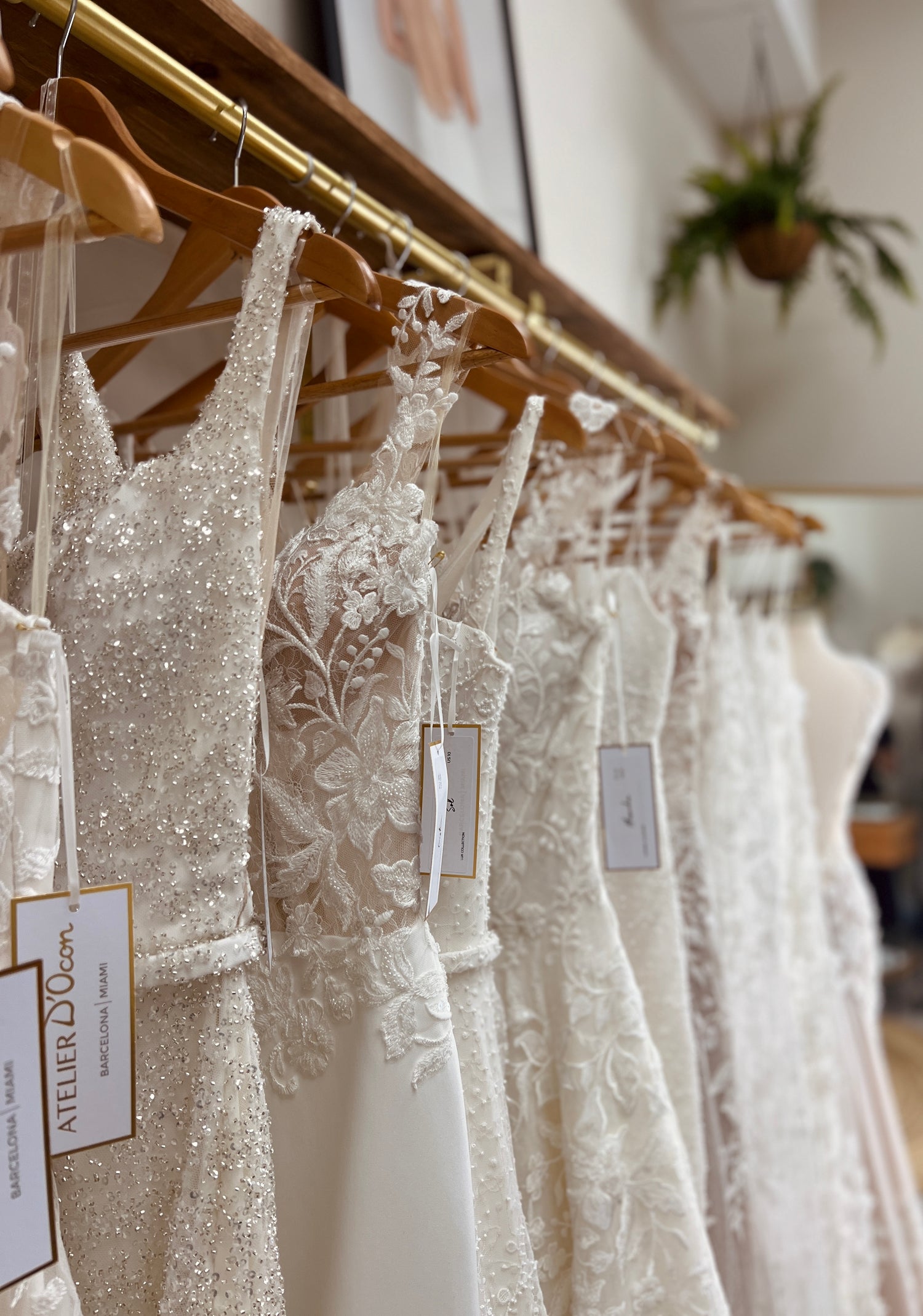 GOING INTO YOUR BRIDAL VISIT
Wear the Right Undergarments
Pasties and any shape wear you may wear on your wedding day are important to bring to your bridal visit! Having these while trying gowns will help you give the best idea of how a dress will look on your big day!
Trust your Stylist!
We love what we do, we know our inventory, and we are passionate about helping brides find their dream dress!Keep in mind, dresses look better on YOU than they do on the hanger, you might be surprised at how beautiful a gown looks, give it a chance!
Trust your Gut!
It can be hard to make a commitment when saying "Yes to the dress!". But when you find the one, you JUST KNOW. Don't second guess yourself and trust your instincts, they're usually right!
I'm ready to Book My Appointment!
Types of First Bridal Appointments
First Bridal Appointment (Complimentary)

Congratulations on your engagement! Bridal Appointments are recommended during regular business hours, to ensure a private fitting room for you, as well as your personal stylist where you will discover the different collections and designers we carry. With the help and expertise of our stylists, we will help you find the perfect silhouette and style that best suits you.

Welcome Back! Bridal Appointment (Complimentary)

Second Bridal Appointment: One-on-one personal stylist session; this includes re-trying on up to 3 of your favorite styles to secure 'the one'!

VIP Bridal Appointment ($149)

Congratulations on your engagement! This appointment is the PERFECT GIFT from the Bridal Party to the Bride.

From the moment you walk into our boutique, you will be greeted by your own friendly stylist with a chilled glass of bubbles and sweet treats, before moving into your private styling suite, where you'll try on our unique and luxurious wedding dresses at your leisure. This is your chance to take your time, feel the fabrics, experience the comfort of our exclusive silhouettes, and envisage yourself on the most magical day of your life.
What to bring to your first alterations appointment:
SHOES that you will wear on your wedding day, to ensure the perfect hem length.
UNDERGARMENTS you plan to wear, to ensure a proper fit. Cups can be sewn into the gown for your comfort.
Learn More about Alterations